Two recent articles have really gotten me worked up. The first is about the end of free checking. The second is about the rising cost of ATM fees. To summarize:
only 39% of checking accounts are free (meaning they don't charge a monthly fee or have a minimum balance)
the average ATM surcharge has risen to $2.50 on the ATM side and $1.50 on the customer's bank side, to a total of $4.00 per withdrawal
Both of these articles make me cringe, but NOT because of what the banks are doing. Some people read these articles and think "those banks are totally dicking over their customers!" While a good knee jerk reaction, it's wrong. Banks are businesses that must seek to maximize profits for their shareholders. So you can't fault them for trying to make as much money as they can. When I look at these headlines I think: WHAT THE HELL ARE THE CUSTOMERS THINKING?!
A long, long, time ago, in a time called the 1980s, there was no Internet (okay sure there was ARPANET and such, but the average consumer did not have the access that we do today). In this dark era, you had to use a local bank or credit union. Maybe you could do some telephone banking and banking by post, but really it only made sense to bank locally.
Fast forward to the dystopian future, THE YEAR 2012! Now we have access to the Internet and Internet banking! You are no longer constrained by time or distance. Banking can be done online, over the phone, by mail, at ATMs, in grocery stores, in Wal*Mart. You no longer have to settle for crappy banking service or fees! Here are four banks that offer fee-free checking:
Ally Bank
Ally Bank offers no minimum deposit, no monthly maintenance fees, free online and mobile banking, no ATM fees, and at home check depositing.
ING DIRECT
ING Direct offers no monthly fees, free overdraft protection, free access to 35,000 ATMs, and a mobile check depositing application.
USAA
Has the military market cornered, for good reason. Refunds ATM fees up to $15 a month. Outstanding service and the first US bank to offer check deposit on mobile phones.
50,000 free ATMs. No monthly service fees. ATM fee refunds up to $20 per month. No minimum balance. A great option for the military and those who work with them.
Do you pay a fee to withdraw cash from an ATM? Does your bank CHARGE you to have access to YOUR money? WHY?! Why are you letting your bank siphon off your hard earned dollars in return for what?! Anytime you pay for a product or service you should get something in return. What are you getting in return for paying a checking "account service fee?" What are you getting for paying $4 to withdraw your cash from an ATM? Nothing. Nothing that you could get at any of these fee-free online checking accounts.
If you're afraid to make the jump to an online only bank, there are many local credit unions that offer no fee checking as well. You can find a good one nearest you on CU Lookup. Also, don't be afraid of not having access to a physical bank account! I haven't walked into a bank but twice in the last 6 years. With check depositing available on your phone or computer and cash available FOR FREE at your local ATM, there is no good reason to not jump into online banking.
When people are complacent with rising fees like this and don't take the effort to switch banks, the banks that raise fees become more profitable. When people stop accepting lackluster service and fees to access their money, banks will realize that they can't just make money from raising fees. This benefits consumers, creates more competition, and ultimately creates a better economy. This is an economy in which consumers can spend money on the things that actually bring them happiness, and NOT on ATM and checking account fees.
Okay, rant over. Phew.
If You Have Over $100k in Investments, You Need This 5 Minute Free Checkup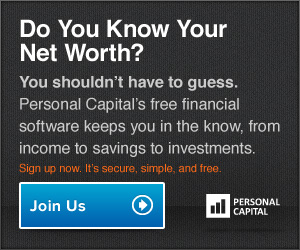 If you have over $100,000 in investable assets, you need to make sure you're not overpaying for fees. Even a 1% difference in expense ratios can result in hundreds of thousands of lost investment growth. Track your growing investments using Personal Capital.
In order to get where you want to go, you have to know where you are. Personal Capital is like Mint.com for investors. While Mint is good for tracking your expenses and getting out of debt, PC is good for seeing your wealth and investments accumulate and grow. Track your Roth TSP, Roth IRA, banking accounts, SDP, and the myriad of other accounts you have all in one place with Personal Capital. It's free and presents a beautiful graphical view of your financial situation. Join today to get the most complete picture of your finances.
Read my full review of Personal Capital and see how easy it can be to manage your investments in one place.