Make sure you check out How I Used my USAA Loan after you read this! Also, I've almost paid off the loan two years early!
It depends. The 2012 interest rate is 2.99%, which is the same as was offered in 2008. In 2009, the rate jumped to around 5%. Prior to 2008 the rate was as low as 1-2%. The loan is usually offered at $25,000, which is a great chunk of change to get you started in life.
The USAA Career Starter loan program is offered to cadets and midshipmen commissioning through Army, Air Force, and Navy/Marines ROTC (Reserve Officer Training Corps) or through OCS/OTS (Officer Candidate/Training School). The terms and conditions change every year, so make sure you call or check with USAA for the most current information.
In 2012, you may apply for the loan within the 12 months prior to commissioning if you are a ROTC cadet/midshipmen, or 4 months prior if you are an OTS/OCS attendee. If you already commissioned, you have up to a year from your commissioning date to apply for the loan, which is subject to credit approval. I've never heard of anyone being denied. The first payment is deferred until 6 months after you commission, so if your EAD (Extended active duty) orders are delayed a bit you have that safety buffer.
This loan can be a powerful tool to get you started as a brand new officer. If you incurred any debt in college, such as credit card, student loan, or car loans, this can be your ticket to paying off that high interest debt with a low interest, fixed monthly payment loan.
Be careful that you don't get sucked into a cycle of debt though. This is not a loan that you should take out and then blow on a brand new BMW or Audi ("Lieutenant mobiles" are all too common in every service). There are no early repayment fees on this loan, so you could take out the full $25,000, immediately pay back $15,000, and then use the $10,000 remaining to pay off credit card bills, get your first PCS started, or anything else you need to do.
Don't treat this loan as free money though! The monthly payments are $471 for five years ($25,000 at 2.99%)! As a 2nd Lieutenant or Ensign, if you're not being paid BAH this could be almost a quarter of your take home pay. Only take out this loan if you have a plan for what you're going to do with it. Trust me when I say that you're going to miss almost $500 a month for the next five years.
Did I take the loan? I sure did. Find out how I used my USAA cadet loan.
If You Have Over $100k in Investments, You Need This 5 Minute Free Checkup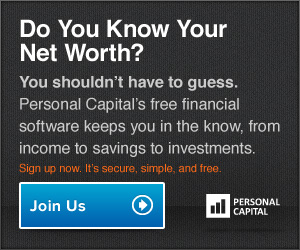 If you have over $100,000 in investable assets, you need to make sure you're not overpaying for fees. Even a 1% difference in expense ratios can result in hundreds of thousands of lost investment growth. Track your growing investments using Personal Capital.
In order to get where you want to go, you have to know where you are. Personal Capital is like Mint.com for investors. While Mint is good for tracking your expenses and getting out of debt, PC is good for seeing your wealth and investments accumulate and grow. Track your Roth TSP, Roth IRA, banking accounts, SDP, and the myriad of other accounts you have all in one place with Personal Capital. It's free and presents a beautiful graphical view of your financial situation. Join today to get the most complete picture of your finances.
Read my full review of Personal Capital and see how easy it can be to manage your investments in one place.