How to Make Money with Lending Club Report
Download the free report! —————>
There is a revolution happening in the financial markets. For the first time ever, the common man has access to the same tools of wealth creation that banks have had for hundreds of years. This report will walk you through everything you need to know to start making money with Lending Club.
Thanks to the magic of the Internet and some brilliant entrepreneurs, you can invest in your fellow man and generate solid returns. It's called peer to peer lending and Lending Club is the company at the forefront of this next revolution in financial products.
Lending Club paid over $135 million to its investors since 2008. If you invest smartly, you too can reap the benefits of this financial revolution.
The report includes:
A summary of what peer to peer lending actually is

How I got started with Lending Club
How Lending Club can offer lower interest loans to borrowers and higher rate of returns to investors
Whether Lending Club is a safe place to invest your hard earned dollars
The exact strategies people are using right now to make money in Lending Club
A bonus section covering the best in Lending Club news and resources
This isn't the next Enron, Bernie Madoff, or sub-prime mortgages. This is real people investing real money in other real people and receiving solid returns for their investments. I've been using the service for over 2 years now and I'll share my experience with you.
Are you tired of earning less than 1% in your savings account?
Are you leery of a stock market that requires a 20 or 30 year investment horizon?
Is real estate just too time consuming and onerous?
If yes, then Lending Club is for you. Start investing smarter today.
This report has 22 pages filled with information on investing in Lending Club. It's based on my own research and my three years experience investing in Lending Club, which is documented here on this blog:
Download the free report now!
If You Have Over $100k in Investments, You Need This 5 Minute Free Checkup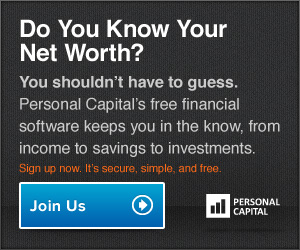 If you have over $100,000 in investable assets, you need to make sure you're not overpaying for fees. Even a 1% difference in expense ratios can result in hundreds of thousands of lost investment growth. Track your growing investments using Personal Capital.
In order to get where you want to go, you have to know where you are. Personal Capital is like Mint.com for investors. While Mint is good for tracking your expenses and getting out of debt, PC is good for seeing your wealth and investments accumulate and grow. Track your Roth TSP, Roth IRA, banking accounts, SDP, and the myriad of other accounts you have all in one place with Personal Capital. It's free and presents a beautiful graphical view of your financial situation. Join today to get the most complete picture of your finances.
Read my full review of Personal Capital and see how easy it can be to manage your investments in one place.