12,000 grads of the Ultimate Military Credit Cards Course already know why
The Platinum Card® from American Express is my #1 recommended card
Military Money Manual has partnered with CardRatings for our coverage of credit card products and may receive a commission from card issuers. Some or all of the cards that appear on this site are from advertisers and may impact how and where card products appear on the site. This site does not include all card companies or all available card offers. Any opinions, analyses, reviews or recommendations expressed in this article are those of the author's alone, and have not been reviewed, approved or otherwise endorsed by any card issuer.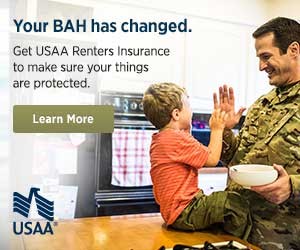 You would think after 10+ years of excellent service I could get around to writing a USAA review. The truth is, this bank makes my financial life so painless, so seamless, and so easy I just do not think about it!
I first joined USAA in 2008 as an Air Force ROTC cadet in Boston. On Feb 11, 2008, at 1:55 PM, I opened a checking and savings account with the bank. The email from that first interaction is still in my archived emails.
I started depositing my monthly ROTC stipend into the account. The lack of ATM fees on the checking account and the decent interest rate on the savings account were great. I also liked how everything was online. You could even deposit checks through a scanner.
Since getting a USAA account, I have been inside a bank less than once a year for the past decade. It's just so easy to do everything online, through the app, or over the phone. Every time I interacted with USAA customer service, on the phone or online since it is an online only bank, I came away impressed and satisfied with the experience.
USAA is still the only bank that calls me by my rank when I call in. It's a small gesture, but it really demonstrates USAA's commitment to the military servicemembers and families that they serve.
USAA Products I Recommend
USAA offers its members a full suite of financial products, services, and accounts. Some of them are better than others. I do not offer a blanket recommendation on all USAA products. The products I most like and have personal experience with are:
USAA Cadet Loan
On Nov 9, 2008, I applied for a USAA Pre-commissioning Loan, also known as a cadet loan or career starter loan. USAA promptly deposited $25,000 into my checking account. That was approximately 5x as much money as I'd ever had in my life. I was quite impressed with myself for having 5 figures in my checking account, even if it was borrowed money.
At the time CDs were offering 5% interest rate, so it was a no brainer to borrow at 3% and invest at 5%. I also paid off my student loans at 6.8% with the USAA loan at 3%, again that was an easier decision. In 2018's low interest rate environment it may not make as much sense, but run the numbers for yourself.
USAA Bank Accounts
Every 1st and 15th of the month, my military paycheck is direct deposited into my USAA Classic Checking account. Actually, thanks to USAA's early deposit program, I always gets my military pay at least 1 business day prior to the actual pay day.
It's a nice feature that allows for easy budgeting and automatic transfers to go out of my account on the 1st and 15th. USAA even has an option in the automated transfers screen to set up transfers on the 1st and 15th.
All USAA accounts come with no ATM fees, no monthly service fees, no minimum balances, fraud protection, mobile check deposits through your phone, and overdraft protection. The overdraft protection can be linked to a bank account or credit card, meaning if you do overdraft they just pull money automatically out of the account to cover your transactions. It's a great simple system that has saved my bacon a few times.
I have honestly never paid a single banking fee in the last decade. If you have ever been hit with a $35 "overdraft protection fee" or "account service fee" at some of the big national banks, you know what annoyance these fees are.
As a new recruit, you can open a USAA checking account with no initial deposit.
USAA Auto, Renters, and Homeowner's Insurance
USAA is an excellent insurance company but I always recommend you shop around and compare rates. If you are OCONUS on assignment and USAA does not cover your country you live in, they offer a $24 annual "rental car insurance." This is an amazing deal that keeps your auto membership continuity with USAA and covers you when you rent cars.
Renter's insurance is cheap through USAA and covers you in case of catatrophe. Combine it with your auto insurance to save even more.
USAA Auto, Cadet, and Home Loans
USAA is a bank. It makes money by taking deposits from its members, paying them a (minuscule) interest rate, and lends the extra cash out in the form of auto, home, and cadet loans.
I have had an auto loan through USAA and the cadet loan. Both were painful to pay off over the years but USAA made the repayment process easy and much better than Sallie Mae (Navient).
USAA even beat a competitor's advertised new card loan rate by .3% just because I called them and asked. I paid off the loan in less than a year but that made me happy to get an extremely low interest rate.
Even though debt sucks and you should utilize compounding interest for you and not against you, USAA makes the borrow process easy and the repayment process easy as well. If I need to borrow money again in the future, I will definitely look to USAA first.
USAA Travel Insurance through Travel Insured International
The travel insurance program USAA offers through Travel Insured International is one of the best little advertised features of USAA membership. Usually for less than $100, you can insure thousands of dollars in airfare, hotels, excursions, and anything else you need to pre-book for vacation or travel.
This insurance is cheap and gives you incredible peace of mind, especially with the unpredictable nature of military operations and life. I have booked travel insurance on most of my trips and made at least 3-4 claims since 2010.
The claims process is easy, transparent, and all online, so you don't have to deal with fax machines or mailing documents. Each time I have been reimbursed the exact amount I have requested. I received 100% reimbursement of all non-refundable expenses every time I have made a claim.
I usually buy the Worldwide Trip Protector Plus package to cover big OCONUS trips. If it's a short domestic trip staying with friends and family where my only real expense is air fare, I will book the Woldwide Trip Protector Lite plan to save a few bucks.
All plans cover cancellation for a change in military orders, which is usually my reason for changing plans. Getting sent on a last minute TDY to save the world can be fun but expensive if you have travel booked. Book the insurance and rest easy while you serve your country. If you're leave gets cancelled, you will covered.
USAA Security
Ever since adding two-factor authentication (2FA) to my account I have felt much more secure with my online banking. Instead of asking you publicly available information when you call into USAA, they send an authentication code to your mobile number that's attached to your account. This is much more secure.
Logging onto USAA through the mobile app is incredibly easy with finger print identification or a PIN. I have only had my USAA credit card and debit card details stolen once and USAA rapidly shutdown both accounts and refunded me the  stolen money immediately. Once their investigation completed, they determined that the fraud had occurred and I kept the refunded money. It was a very easy process and only bolstered my trust in USAA.
10 Years with USAA
USAA continues to serve me faithfully even after a decade. I occasionally shop around other banks like Chase, PenFed, Navy Federal Credit Union (NFCU), and Ally, but none of them really set themselves apart from USAA.
If USAA's quality of service were to substantially decline, I can always see myself leaving for a better product. However, the quality has remained consistently awesome for me over the past 10 years, so I have no plans of leaving at this time.
I always shop around for better CD rates, auto insurance rates, and savings accounts that pay better interest. As long as USAA offers free ATM withdrawals l will keep my checking account with them. I never hesitate to move my cash to a CD or online savings account that pays better interest.
I recommend you try USAA's banking, auto, umbrella, renters, and homeowner's insurance, their loan programs, and travel insurance, but always shop around and ask if they will match or beat a competitor's rates.
When it comes to credit cards and investing products, steer clear of the overpriced, underwhelming, and the poor options USAA sells. There are much better credit card rewards programs out there, like American Express and Chase Ultimate Rewards. The expense ratios on USAA mutual funds is extremely high compared to Vanguard index funds. Costs matter, especially over a lifetime of investing.
Are you a longtime USAA member? Have you noticed a decline in the quality of service since you joined? Are you committed to USAA for life or would you leave if a competitor offered even better service? Let us know in the comments below!